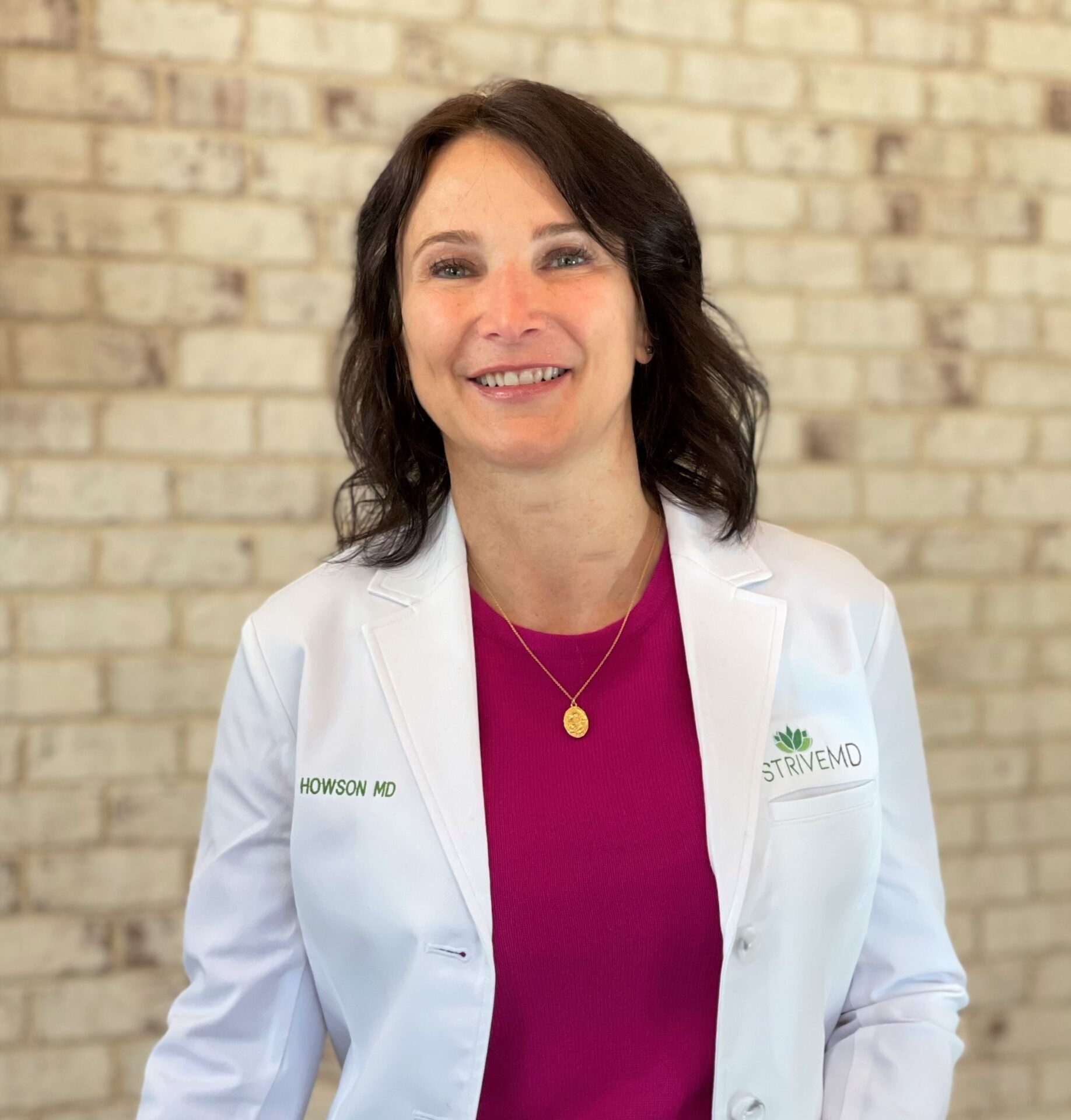 Dr Julie M. Howson
My path to becoming a doctor was a bit different.  I graduated from Cornell University with a degree in Microbiology and later from Columbia University with a postgraduate degree in Applied Physiology. 
After completing my undergraduate education, I worked in healthcare management, performed medical research, and owned a wellness company helping clients with lifestyle modifications and weight management.  These experiences and self-reflection led me to becoming a physician.  
My medical education and training were at the University of South Florida in Tampa.   I have been practicing medicine for 17 years and serving our local community in Union County for the past 7 years.  The journey has been amazing and emotionally rewarding.
My years in the ER, along with my previous work in weight-loss and recent certification from the American Board of Obesity Medicine have formed my desire to make a change and create a preventive health and wellness practice.  I am excited to continue providing personal healthcare to our local community at StriveMD!
I am married with 4 active children, ages 12-17.  Outside of medicine, I enjoy skiing, hiking, scuba diving and traveling. 
Zhanna G. Akey
Practice Administrator
In her role at StriveMD, Zhanna provides leadership expertise in all areas of the clinic and oversees patient care experience.  With emphasis on delivering the highest level of quality care for our patients, Zhanna supports clinicians with informatics, technology, and program implementation to accomplish healthy doctor-patient partnerships.
As a Principal at AZ Medical Administrators, Zhanna also leads a team of professionals and works with other healthcare clinics throughout US to provide wide scope of management and administrative services.
Outside of work, Zhanna volunteers her time mentoring university students in life skills, emphasizing responsibility and accountability habits.  Zhanna also enjoys traveling and learning about different cultures.
Anissa A. Jaworski
RN
Anissa's passion is to offer the best patient experience at StriveMD.  She is a strong advocate for wellness and healthy lifestyle, and brings an extensive skill set as Registered Nurse.  After graduating Summa Cum Laude from the Accelerated Bachelors of Science in Nursing Program at Augusta University College of Nursing, Anissa was recruited to work in the Acute Respiratory Intensive Care Unit at Emory University Hospital in Atlanta, GA., which was the first COVID-19-Positive Intensive Care Unit during the pandemic.  While caring for very ill patients, Anissa also pioneered hospital-wide changes in practice and earned Employee of the Month while practicing as an RN and Charge Nurse.
Anissa is married to her high-school sweetheart, and when she is not in the clinic working, she enjoys hiking, traveling, and playing with her puppy Luna!
Kyle Jaworski
MA
Kyle is thrilled to be part of the StriveMD team in a role of medical assistant and phlebotomist!
After graduating from the Georgia Institute of Technology with a Bachelor of Science in Biomedical Engineering, Kyle pursued multiple interests in the healthcare field and innovation.  His technical/medical projects included working in the pharmaceutical manufacturing industry.  At the Marcus Trauma Center at Grady Memorial Hospital in Atlanta, GA, Kyle worked on designing a solution to optimize emergency room physician and patient experience.  Kyle also was involved in other projects such as designing a lung ventilator for pediatric patients, devices to detect seizures, and researching new technologies for non-invasive blood alcohol analysis.
Kyle's passion for medicine is all about the patient and in his free time he volunteers at a local hospice facility to offer emotional support and companionship to patients.
Kyle enjoys spending time with family, traveling, and hiking with his wife and puppy.
Kimberly Maslin
RN
Kimberly started her career as a registered nurse 13 years ago. Prior to nursing, she was an elementary school teacher and loves working with children.
She has been an Emergency Room nurse in the Charlotte and Waxhaw area.  Her nursing career has been devoted to helping care for patients during some of their most difficult times.  She is excited to bring her skills to StriveMD and continue her compassionate care to our local community!